{{ addToCartSuccessMessage }}
{{ addToCartErrorMessage }}
Aromatherapy
Eco Aroma Essential Oil - Clove Bud 10ml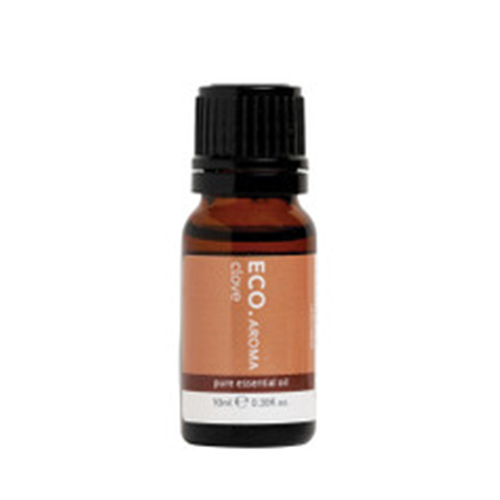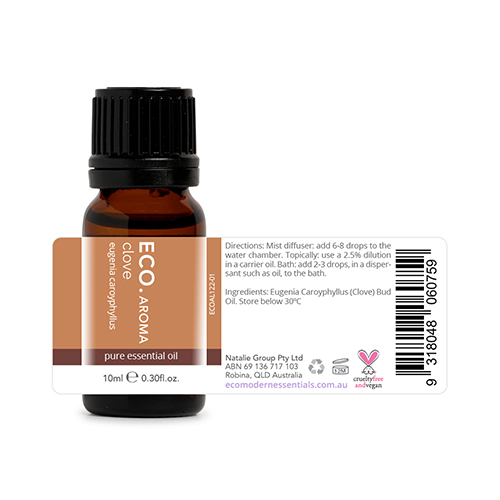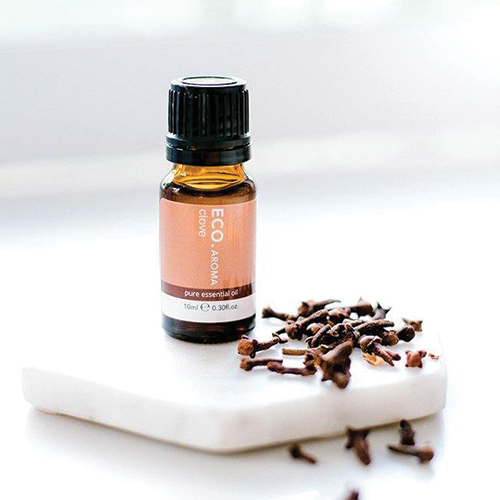 Aromatherapy
Eco Aroma Essential Oil - Clove Bud 10ml
Clove bud is excellent for aching joints, muscle spasms and neuralgia. Clove bud oil is a powerful antiseptic and can be used to treat bacterial, fungal and viral infections. It can be helpful for those with mental and nervous fatigue.
Key benefits:
Clarifying.
Mental stimulant.
Calming to the digestive system.
Antibacterial, anti-fungal and antiviral properties.
Potent disinfectant.
Great for treating tired and fatigued muscles.
Source: Indonesia
Botanical name: Eugenia Caryophyllus Bud (Clove bud) oil
Diffuser: Add 6-8 drops of your Clove essential oil to a diffuser.
Quick fix: A few deep inhalations from the bottle can help when you are at work, in the car or anytime you need a quick break.
Massage: Use a 2.5% dilution; up to 15 drops per 30ml carrier oil.
Hand or foot bath: Add 2 drops of essential oil to a bowl of water.
Compress: To a bowl of water, add 2 drops of essential oil. Agitate a face washer in the water, wring out excess moisture and apply washer to the affected area. Repeat two or three times as the compress cools down or warms up to treat abdominal complaints and muscular pain.
Cleaning: Can be used in a spray bottle as a disinfectant.
Do not use undiluted on skin. Keep dilution low as Clove Bud can be toxic and overwhelming to the mind in large doses. Also, may cause skin irritation.
Blends well with: Orange, Frankincense, Cinnamon, Cedarwood, Ginger, & Fennel.
Questions and answers of the customers
There are no questions yet, be the first to ask something for this product.