{{ addToCartSuccessMessage }}
{{ addToCartErrorMessage }}
Pantry
Black Garlic Peeled Cloves 40g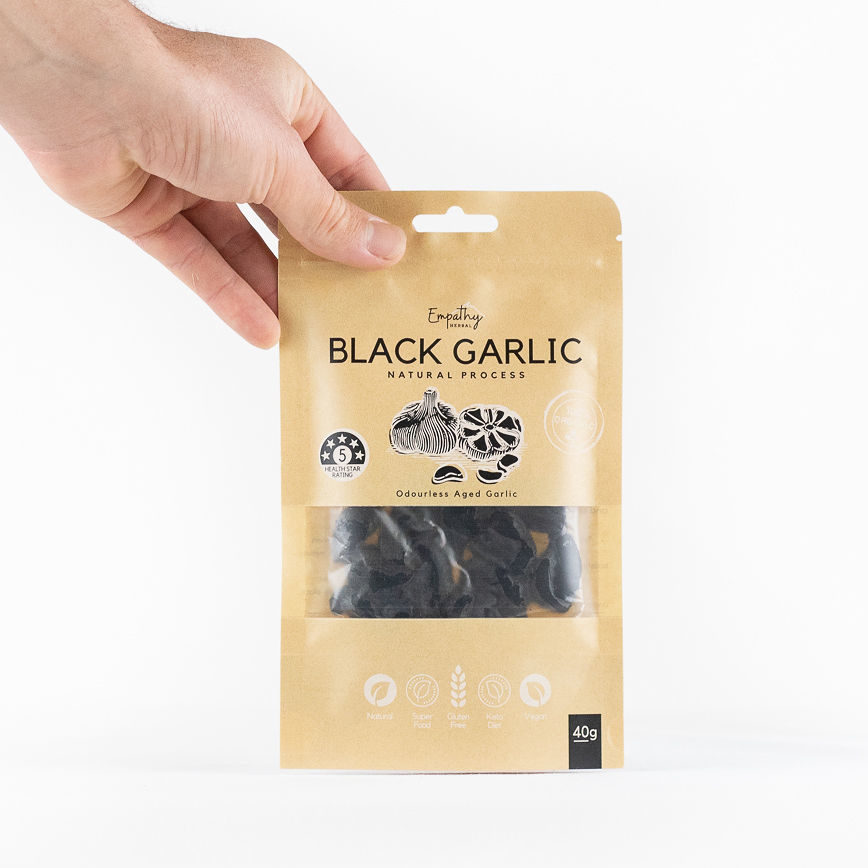 Pantry
Black Garlic Peeled Cloves 40g
Organic BLACK GARLIC peeled cloves, have a sweet & chewy texture that's reminiscent of popular jube lollies! Rich in flavour & health benefits for your immune & cardiovascular system, they are sure to satisfy.
If you're looking to add a unique & delicious twist to an anti-inflammatory diet, Black Garlic peeled cloves are an ideal choice. They have a soft 'n' sticky texture & taste which is sure to tantalize your tastebuds!
Black Garlic is oven roasted for 30 day, so you don't need to worry about stinky garlic breath. Enjoy these flavoursome cloves as a tasty addition to any dish or eat them whole & raw – either way you'll love'em!
Organic black garlic peeled cloves
5 simple & delicious ways to enjoy the health benefits & taste and of black garlic peeled cloves.
Eat them straight out of the packet or jar as a healthy 'immune boosting' lolly.
Cut the cloves on a wet chopping board (maybe after the tomatoes) and sprinkle over
Add a cluster of cloves to a cheese board or antipasto platter.
Dice the mix into guacamole or slice and enjoy with smashed Avo on bread.
Add to baked, mashed or roasted potatoes to improve the taste, colour & health benefits.
PRO TIP: Black Garlic peeled cloves can be added to virtually any recipe – being used in combination with or in place of white garlic. For best results dice the cloves on a wet chopping board so they don't all stick together.
Questions and answers of the customers
There are no questions yet, be the first to ask something for this product.