{{ addToCartSuccessMessage }}
{{ addToCartErrorMessage }}
Supplements
Free Spirit MegaOmega Algae Oil Omega-3 Baby DHA 30ml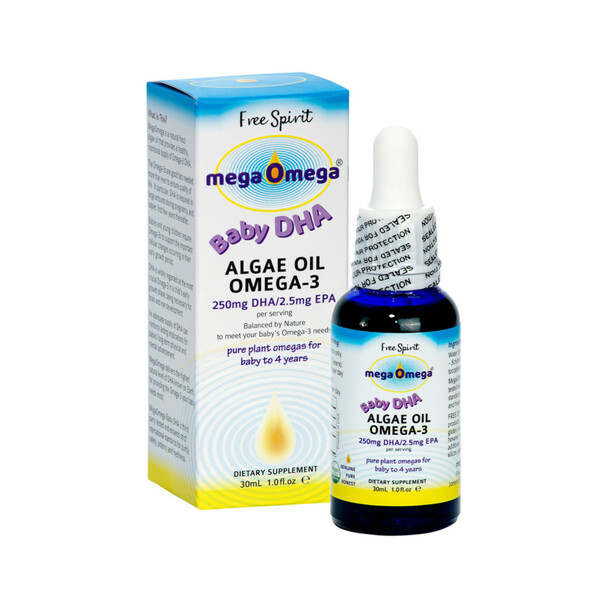 Supplements
Free Spirit MegaOmega Algae Oil Omega-3 Baby DHA 30ml
The Omega-3s are good fats needed more than ever to ensure quality of life. In particular, DHA is required in large amounts during pregnancy and babies' first few years thereafter.
Babies and young children require these essential fatty acids to support the important cellular changes occurring in their early growth period.
DHA is widely regarded as the most crucial Omega-3 in a child's early growth phase, being necessary for brain and eye development. An adequate supply of DHA can reinforce lasting implications for babies' long-term physical and mental advancement.
MegaOmega delivers the highest natural level of DHA know on Earth for providing the Omega-3 your baby needs most. It can be included in your baby's daily nourishment routine to support optimum health. Just pure Algae Oil, no flavouring, designed to perfectly mix with babies' formula or as baby grows, juice or food.
With a calibrated dropper, Mum can be sure of giving baby exactly the recommended serve of 0.5 ml (250mg DHA) each day and young children to 4 years, 1 ml (500mg DHA).
Also perfect for the adult who prefers no flavour or wants to measure an exact dose.
Babies: 0.5ml
Up to 4 years: 1ml
Questions and answers of the customers
There are no questions yet, be the first to ask something for this product.