{{ addToCartSuccessMessage }}
{{ addToCartErrorMessage }}
Skincare
Free Spirit Organic 100% Pure Rose Hip Seed Oil 30ml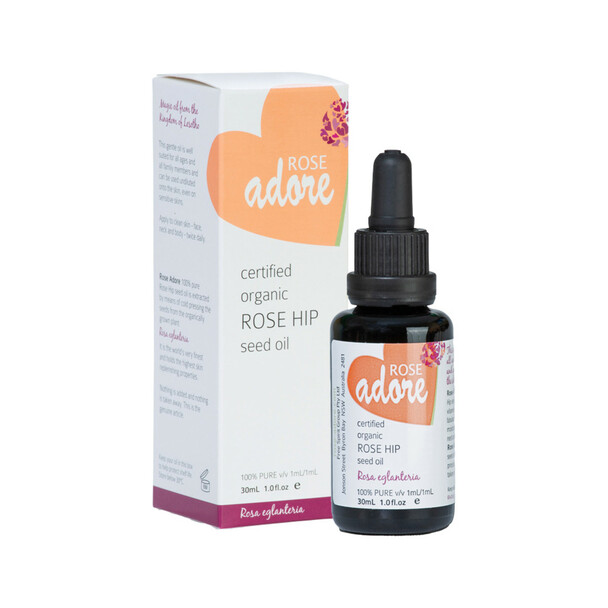 Skincare
Free Spirit Organic 100% Pure Rose Hip Seed Oil 30ml
The world's finest quality Rose Hip Seed Oil is found in the small landlocked African mountain Kingdom of Lesotho where the fruits are allowed to ripen on the plant so that the seeds reach their peak of vitality and contain maximum nutrition. Rose Adore Rose Hip Seed Oil is true to nature, unaltered and organic certified by OKO Garantie BSC.

Note: Rose Adore Rose Hip Seed Oil is exactly the same oil as the Love Rose Hip Seed Oil. Love Rose Hip Seed Oil was created on demand as part of the Love Seed Oil Range.
Key Features
Rehydrating, moisturising and revitalising to dry skin
Nourishes and repairs razor damaged skin
Reduces the appearance of premature ageing skin, wrinkles, crow's feet and fine lines
Excellent for dry, mature skin
Helps to reduce pigmentation and age spots
Aids in reducing redness associated with facial rosacea
Rosa eglanteria Certified Organic Seed Oil
Rose Adore Rose Hip Seed Oil penetrates easily without leaving a greasy residue and can be applied undiluted on the skin, even on sensitive skin.

APPLY DIRECT TO SKIN for general moisturising, protection and repair or to problem skin areas where special attention is required.
MOISTURISER The gentle, nurturing and moisturising qualities of this oil make it a valuable addition to your daily skin care regime. Apply to clean skin on face, neck and body to nourish, replenish and hydrate.
*Not recommended for use on acne or very oily skin.
AS A DIETARY SUPPLEMENT This product is edible and may be taken internally for its valuable nutritional benefits.

Rose Adore Rose Hip Seed Oil is perfect for both men and women and makes an excellent after shave oil.
Questions and answers of the customers
There are no questions yet, be the first to ask something for this product.